New English Teacher Introduction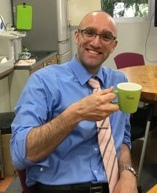 Dear Students and Parents,
First, my name is Stephen Swann. From April 2017, I am an English teacher at Hibarigaoka. I come from England, so from next time I want to use this blog to share some things about England with you.  Finally, I have a big favour. If you see me, please talk to me! Using English is the most important thing to improve your skills, so let's chat.
See you soon!
生徒と保護者の皆様へ
私はスワン・スティーブンと申します。2017年4月から英語教師として雲雀丘学園で勤めています。私はイングランドから来ましたので、次回のブログからイングランドに関して書きたいと思います。最後に、大きなお願いがあります。私を見かけたら、是非声かけて下さい。英語を上手になる為に、最も重要なことは使うことですので、喋りましょう。
すぐ会いましょう!